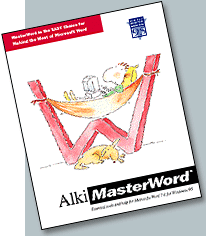 The company was founded by Peter Rinearson in 1988 to build products that enhance Microsoft Word. At the time, Rinearson was the leading author of books about Microsoft Word for DOS, and his system of styles and style sheets was on its way to being adopted by Microsoft as the foundation for the styles that are in all versions of Word today. Word had very low market share but Rinearson believed in its potential and he saw a need for additional software--like his system of styles--that would help users take advantage of Word's power.
The company's initial product, eventually called MasterWord, combined helpful macros and utilities with a total replacement for Word's built-in context-sensitive help. New versions came out as fast as versions of Word--typically more than once a year. The 1990 edition of Alki's help file for Word contained more than 11,000 interactive links, a very large number for its day. This was several years before the arrival of the hyperlinked help that is now taken for granted on the World Wide Web.
For the most part, Alki sold MasterWord by mail order and through flyers in the Word package and offers in Rinearson's books. But it was also carried by retailers such as Egghead Software.
In 1991, Alki licensed to Microsoft portions of the Macintosh version of MasterWord. Microsoft used these components, which included the first Mac toolbar, as the centerpiece of its upgrade from Word 5.0 to 5.1 for the Mac.
By 1994, Alki released Windows and Macintosh versions of Alki Seek, a file-finding utility that had more than 100,000 registered users. The next year, Alki released DocStudio, a pioneering Windows product that offered templates for thousands of page designs and accompanying fonts.
Throughout the 1990's and into the new millennium, Alki published Proofing Tools kits that enabled users of localized versions of Microsoft Office to check spellings, hyphenate, and find synonyms in more than one language. These multilingual products employed components licensed from Microsoft as well as original work by Alki. They were distributed online or by mail. Now proofing tools are available directly from Microsoft.
InType, Babynamer and Raster Ranch
After completing a collaboration with Bill Gates on The Road Ahead in 1995, Rinearson saw the need to radically reinvent Alki Software. He established a subsidiary, Intype Inc., which developed the innovative InType web-publishing platform. It allowed web sites to host a mix of conventional and community-created content, and among other places was used by the Newspaper Association of America (NAA) to host a directory of newspaper web sites. Alki also created a series of Web sites for parents, including Babynamer.com, which offered information on more than 20,000 names that parents might choose for a child. Babynamer.com was syndicated to many newspaper sites, including to most of those in the (late) Knight-Ridder chain. It is published today, largely unchanged except for its graphic design, by Oxygen Media.
In addition, in 1995 Rinearson and three partners established Raster Ranch, a digital design company that executed projects for clients ranging from Disney (for special effects for the TV show "Bill Nye the Science Guy" and an 87-foot mural at Epcot Center) to Microsoft and HP (for immersive 3-D digital environments and demonstrations of future technology) to advertising agencies (for components of television commercials) to television stations (for news opens and promotions). Raster Ranch also designed sophisticated Web sites.
In 1999, the InType subsidiary was purchased by the cable-television network Oxygen Media. As part of that transaction, Raster Ranch closed its doors and its workforce joined Oxygen as employees. Alki continued to sell Proofing Tools for several years, and is presently developing Web-related services.